With the holidays right around the corner, and all of the sales bombarding our emails and T.V's, it's hard to remember the purpose for the season. And I am so to blame for this as well! I am such a bargain hunter that I stalk websites and google the word "coupon" for every website I come across. I mean, if I don't have a discount code, you won't get my business. I'm ruthless.
Thankfully, my family has done a wonderful job of making the holiday about time together and not just gifts. We do a Christmas exchange on both sides. So now, I can focus on getting one person a perfect gift instead of stressing out about finding and affording gifts for everyone! It helps make this time much more enjoyable and peaceful. But, on that same note, I've got to buy gifts, and I need them to be perfect (and on sale).
Last Christmas when I was shopping for Isla June, I was super excited to buy her a learn and grow table full of music and toys, until I looked in the reviews section and noticed that the toy listed was full of bromine, arsenic and lead! Ahhh! Definitely not anything I wanted to expose my sweet baby to. The website
HealthyStuff.org
offers insight into many everyday items in your house that you and your family come in contact with. A lot of children's toys out there aren't the safest thing for our little ones. It definitely woke me up that I have to do the research on these toys because the government and the companies aren't taking care of this for us.
So, I decided to commit to researching toys more efficiently. And now, we prefer to buy from and support green company's. Even if I am buying gifts from Amazon, I try to make sure it's from a green company affiliate. So, if this is something you want to do, or are willing to try (just one gift with "green" in mind would be one small, beneficial step!), here is one of my favorite company's for eco-friendly toys:
Plan Toys
- Such a great company. I love their philosophy and principles
We create toys that inspire children's imagination as well as promote their physical and intellectual development. We're also proving that it is possible to maintain superior quality standards while steadfastly following a path of environmental and social responsibility.
PlanToys

®

practices the "FOUR R's" of green living: Rethink, Reduce, Reuse, and Recycle. Our manufacturing processes are designed to reduce waste and save energy. We reuse materials, and have introduced innovative methods to recycle paper and other products. We are always looking for new ways to improve and preserve our environment
I mean, don't you love that?? A company that actually has your child (and their future) in mind.
Some of my favorite toys from them
Isla June absolutely loves this thing.
Shape Sorter
such a great Cause/Effect toy, and teaches colors and shapes. Sturdy and beautiful.
Another favorite in our house
Cone Sorting
Another great, thought provoking toy.
They also have vehicles and a parking garage for older children
and wonderful, colorful and safe teethers/rattles for little hands
And all of these items (and MORE!) are available on Amazon.com for very, very affordable prices. Yes, you may pay a little bit more for these items than a typical plastic toy, but, it will last so much longer and I think that they help spur children's imaginations. And that, to me, is worth a million bucks.
Another company that Isla June will receive a gift from
They also manufacture in the US. All of their toys are BPA and phalate free and made from recycled milk jugs (they're at about 9.4 million recycled milk jugs to date!). I absolutely love that!
Here's a little bit about their philosophy:
We believe the world would be a much better place if everyone said "please" and "thank you", cell phones didn't ring during movies, and all toys were fun, safe, and made from environmentally friendly materials. Since it's probably no use holding our breath for those first two, we're concentrating on the toys.
Green Toys Inc. makes an awesome line of classic children's toys constructed from recycled plastic and other environmentally friendly materials. This helps reduce fossil fuel use and reduce greenhouse gas emissions, improving the overall health and happiness of the planet.
and, umm, yeah. That's exactly what I want too. Love them.
Some of their toys that I adore
These block may or may not be under our Christmas tree. They are sturdy and big enough for small hands. And they don't smell like some plastic does.
How cute is this?? They also have a recycling truck, school bus and fire engine as well. This is definitely on our wish list.
Tons of play kitchen items available! (and they're safe for real food)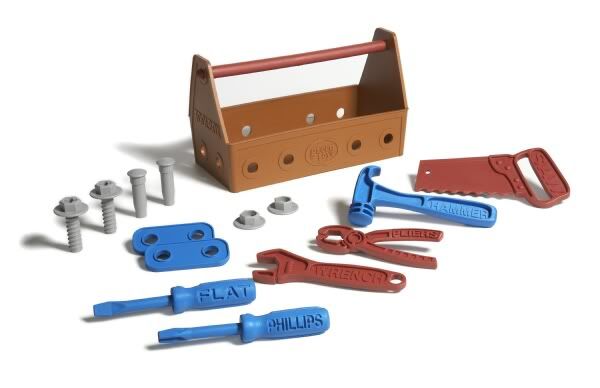 And a tool set for budding little DIYers
one of the best stacking toys I've ever seen.
Hopefully you've seen something you like and it's inspired you to include some green toys into your holidays! We are very much in love with these two company's and are excited to have their products under our tree.
Happy Shopping!
P.S. All items listed above can be found at a great price on Amazon.com
(and no, they didn't tell me to tell you that)
P.P.S. I am in no way affiliated with the any of the above listed companies. They don't give me free things or know who I am. I just love them and want to share them with you..
* all pictures are from listed company's websites